Mastering the Art of Smartphone Filmmaking: Top 3 Gimbal Moves 📱🎥
👋 Hey everyone, welcome back! If you're new here, a warm welcome to you. I'm Julian, the brains behind Smartphone Filmmaking Pro. In today's blog, I'm diving into the world of gimbal movements. 🚀
This blog is generously supported by the OM iSteady MT2. Throughout this post, we'll explore this gimbal's incredible features. It's a gem that works wonders with both cameras and smartphones, and I'll get into the nitty-gritty details as we go along. But first, let's get started with the first gimbal move. 🎬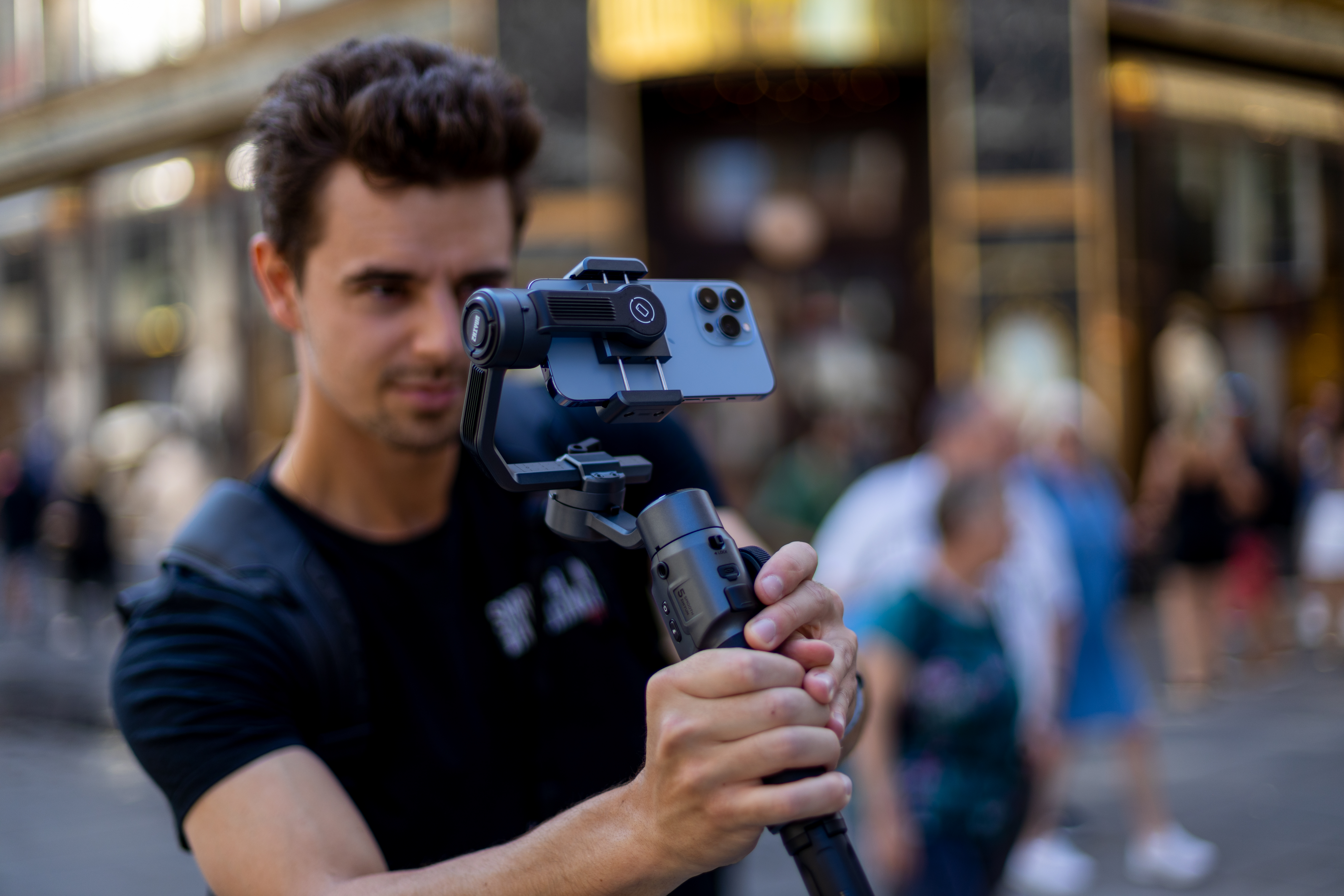 1. The Standard Push-In Shot 🚶‍♂️
One of the classics, and my personal favorite, is the standard push-in shot. With a gimbal, it's a piece of cake. Here's how it goes:
Choose your subject, any object or scene works.

Frame your shot, ensuring the focal point is centered.

Start walking straight towards your subject. 🚶
You can also reverse this to create a "push out" shot. This move is perfect for establishing locations and adding depth to your shots. 🌆
2. AI Tracking for Solo Shooting 🤖
Now, one of the coolest features of the OM iSteady MT2 is the ability to use it without an operator. Just activate AI tracking, and it follows you around flawlessly. Ideal for solo creators, live streaming, or when you're on the move. It doesn't require any specific app, and you can stop it anytime with a simple gesture. 🎯
And can we talk about its size? For a gimbal that can handle a full-frame camera shooting in 4K at 60fps, it's impressively compact – a dream for travelers. 🌍
3. The Orbit Effect 🌐
Now, let's dive into the second gimbal movement – the orbit effect. Here's the deal:
This move creates a mesmerizing orbit effect and works wonders for showcasing products or adding style to your content. It's versatile but might need some practice, especially with narrower focal lengths like a 50mm lens. 🌀
4. The Mind-Blowing FPV Mode 🤯
Last but not least, the third gimbal movement (actually, it's a mode) – FPV or POV mode. The OM iSteady MT2 lets you unleash your creativity here.
Unlock all axes, and you have limitless possibilities.

Try swooping shots, unexpected angles, and mind-blowing perspectives. 🌪️
This mode is a game-changer, and it opens the door to some truly unique shots that'll make your content stand out. 🤩
So there you have it, folks – my top three gimbal movements for creating stunning content on platforms like Instagram Reels, TikTok, and YouTube Shorts. But don't be limited by these; you can use them for horizontal shooting too. The OM iSteady MT2 has been a stellar performer in all my tests, and it's perfect for smartphone creators, no matter your level.
Big thanks to HOEM for making this possible.At Smartphone Filmmaking Pro, we've got the ultimate online course to help you create jaw-dropping videos with your smartphone. 📱🎬
And for those who want a deeper dive into these gimbal movements, visit our YouTube Channel. Happy shooting! 🌟👍
---
Join Our Brand New CapCut Masterclass 50% OFF and get ACCESS to our Private Facebook Community FREE
Ready to level up your video editing game? If you're hungry for more editing skills, join our CapCut Masterclass. It's a treasure trove of knowledge where you'll become a video editing maestro. Don't miss out on this exclusive opportunity to enhance your skills and capture moments like a pro. Join our masterclass now and unlock the potential of your smartphone editing skills. Join us today and embark on an incredible journey into the world of editing viral video content!