📷 Mastering Cinematic Smartphone Videos with Freewell Filters and Lenses 🌟
Today, we're diving into the exciting world of cinematic smartphone videography using an array of lenses and filters generously provided by Freewell. While these tools undoubtedly enhance your videos, remember, you can craft stunning content with just your smartphone. Let's explore how you can take your filmmaking to the next level! 🎥📱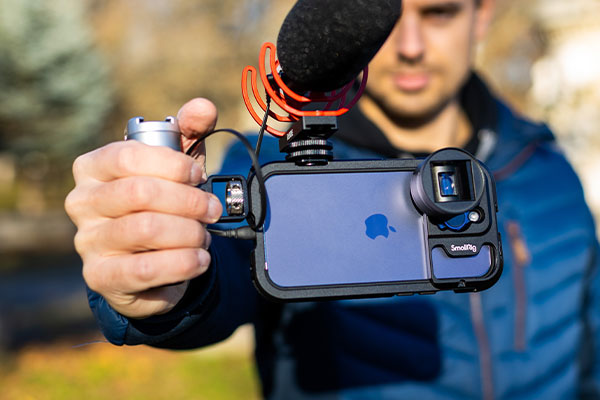 Why Freewell Rocks: Magnetic Magic 🪄
Freewell's products are known for their user-friendly design. Take their ND filter, for instance. The case and filter both feature magnets, making attachment a breeze. No more fumbling during crucial moments.
Meet the Anamorphic Lens: Widescreen Wonders 🌟
The anamorphic lens is a gem in Freewell's collection. It squeezes your image, creating that iconic widescreen cinematic look. During shooting, it appears stretched, but in post-production, you'll de-squeeze it for that true movie theater vibe. And here's a bonus: it comes with ND filters for versatility.
CPL Filter: Enhancing Sunny Days ☀️
The Circular Polarizer (CPL) filter is perfect for bright days. It not only makes the skies bluer and grass greener but also eliminates reflections from glass surfaces. A simple spin of the filter can transform your shot, enhancing its cinematic quality.
Snow Mist Filter: Softening the Digital Edge ☁️
The Snow Mist filter, similar to a cloud diffusion filter, softens the sharpness of your smartphone's digital look. While subtle, it's a game-changer, especially when shooting under bright sunlight.
Galactic Grid Filter: Embrace the Flares 🌠
This filter adds dynamic lens flares to your shots, especially when filming against a bright light source. Spin it to adjust the flare's position for creative effects. While it may not be for everyone, it can lend a unique touch to music videos and experimental projects.
Kaleidoscope Filter: Unleash Your Creativity 🌀
The Kaleidoscope filter offers an unconventional effect that's perfect for experimental projects or music videos. It creates mesmerizing patterns, adding a touch of whimsy to your shots.
Understanding ND Filters: Sunglasses for Your Camera 😎
ND filters, or Neutral Density filters, are essential for bright, sunny days. Freewell offers various options, including the ND8, ND16, ND32, and ND64. These filters, attached magnetically, ensure your smartphone camera gets the proper exposure without a high shutter speed, resulting in a more cinematic look. The best part? No color shifts here.
Remember, the right tools for the right tasks. While these lenses and filters are fantastic, don't forget that you can still create fantastic videos using just your smartphone. We've created Smartphone Filmmaking Pro to help you do just that. Dive deeper into smartphone cinematography by joining our free webinar, where we share the top five secrets to making cinematic videos using your smartphone. Click the link below to get started on your filmmaking journey! 🚀🎬
A big thanks to Freewell for making this video possible. Stay tuned for more filmmaking insights. Happy shooting!
---
Join Our Brand New CapCut Masterclass 50% OFF and get ACCESS to our Private Facebook Community FREE
Ready to level up your video editing game? If you're hungry for more editing skills, join our CapCut Masterclass. It's a treasure trove of knowledge where you'll become a video editing maestro. Don't miss out on this exclusive opportunity to enhance your skills and capture moments like a pro. Join our masterclass now and unlock the potential of your smartphone editing skills. Join us today and embark on an incredible journey into the world of editing viral video content!